HEALTH RISK ASSESSMENTS
The foundation of a successful wellness program
The Health Risk Assessment (or HRA) is the first step to building a strong
wellness program.
Now required by many health insurance companies, HRAs provide the data you need to set internal benchmarks, create wellness program goals, identify specific focus areas, and evaluate your company's overall progress from year to year.
At Be Well Perform Well™, we have partnered with industry leaders within the health improvement service market to provide one of the most comprehensive, customizable, and scientifically-based HRAs on the market.
Features include:
Simple questionnaire that takes only 15-20 minutes to complete
Available in both online and paper formats
Available in English, Spanish, and Canadian French
NCQA certified and HIPAA/HITECH compliant
Custom administrator reports and data export options
Comprehensive and personalized individual reports
Our custom individualized reports include detailed information and suggestions help your employees live healthier, happier, and more productive lives.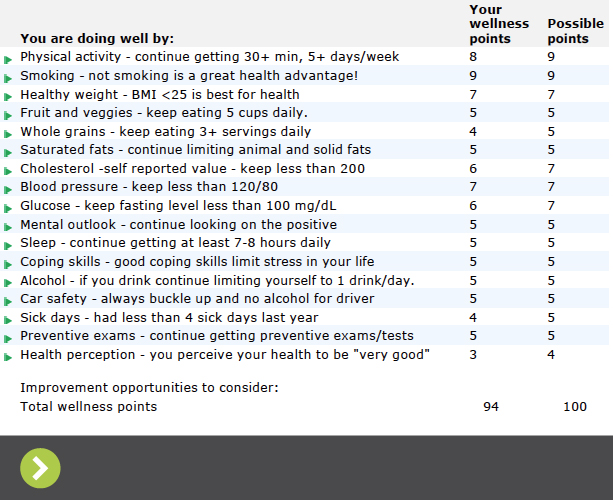 Health Risk Assessment Report
Contact us to find out more about HRAs and other services provided by Be Well Perform Well™.